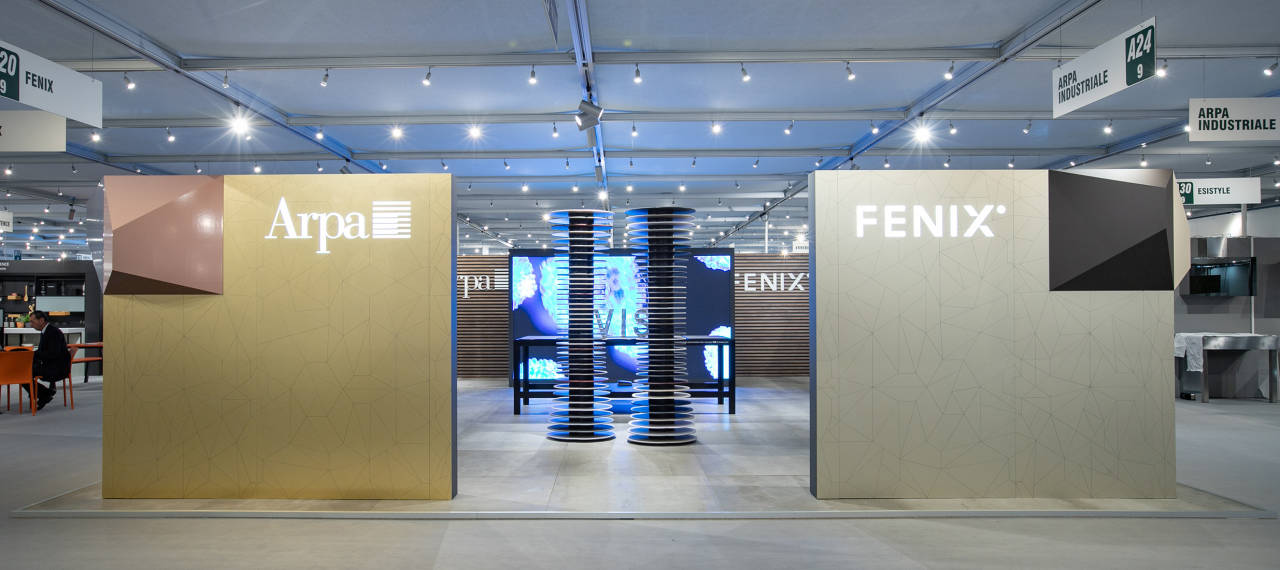 Arpa Industriale welcomes visitors to one of the key events of the year, the SICAM fair with an interactive exhibition space that combines design, innovation and sustainability. Inspired by a "style centre", the stand invites attendees to touch and experience the materials from both an aesthetic and a technical point of view. 
"Bloom" is the new lignin-based technology created by the company's R&D department to increase the use of natural raw materials in the core of Arpa HPL and FENIX NTM. With Bloom, lignin technology has been introduced to significantly reduce the amount of phenol included in the resin by 50%.
ArpaLab, Arpa Industriale's laboratory of ideas, continues to explore new aesthetic suggestions for interiors, offering the wood decor "Noce Carja" in both Dark and Light versions. A pattern that highlights the natural grain of black walnut. Also, a new collection with an enhanced wear and rubbing resistance is available as an exclusive preview. Under the name of VIS, this novelty collection combines premium finishes (Alevè, Kér, Luna, Mika, Urban) and selected decors.
Bianco Dover is the latest addition to the colour range of FENIX NTM, giving clients the option to choose between four different shades of white.
An original concept consolidates the role of FENIX as an "ingredient brand" aimed at offering aesthetic solutions and simplifications that round off its interior design offering. This is "FENIX Integrated Solutions".
Innovation, sustainability, advanced technology and durability combined with "Made in Italy" design and style have always been the values of Arpa Industriale. Once again, they are expressed through the new products being presented at SICAM. 
Pordenone Fair 15-19 October
Hall 9 Stand A20-A24