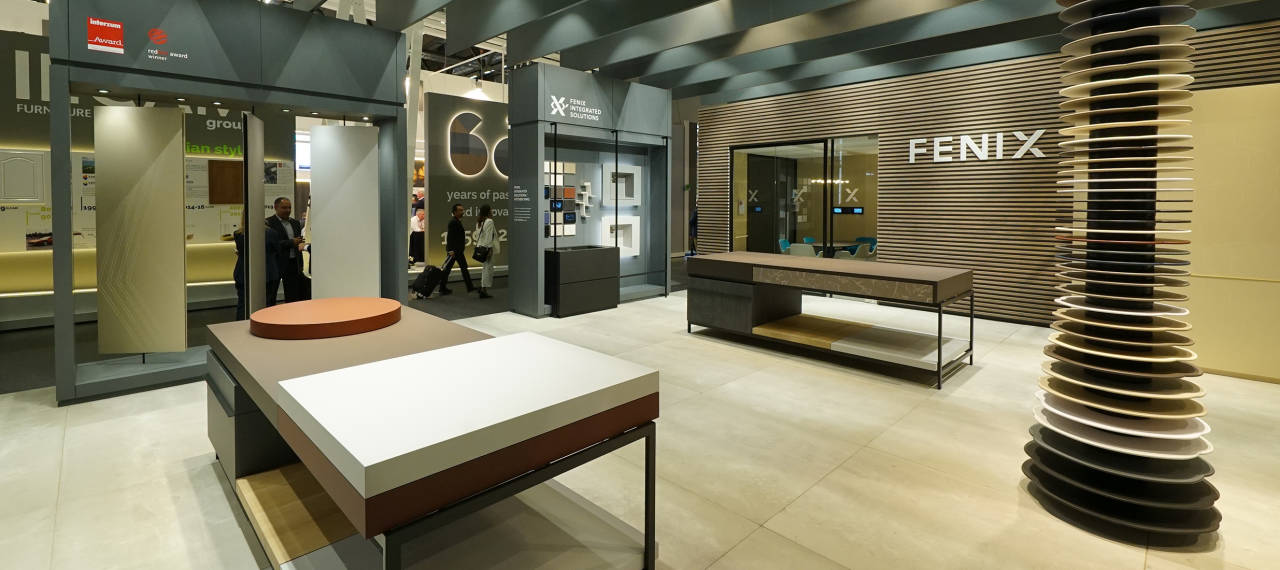 Arpa Industriale welcomes visitors to the Interzum fair with an interactive exhibition space that combines design, innovation and sustainability.
Designed by LEM Agenzia Architettura and inspired by a "style centre", the stand invites attendees to touch and experience the materials from both an aesthetic and a technical point of view. 
Bloom: core innovation for interior design and sustainability
"Bloom" is the new lignin-based technology created by the company's R&D department to increase the use of natural raw materials in the core of Arpa HPL and FENIX NTM. With Bloom, lignin technology has been introduced to significantly reduce the amount of phenol included in the resin by 50%. It is available for a selection of twenty-eight HPL plain colours in three finishes (Erre, Lucida and Kér), as well as for four new colours of FENIX NTM: Giallo Kashmir, Verde Brac, Rosso Askja, Azzurro Naxos.
HPL: exclusive wood decors and a new finish
The new HPL "Kér" finish is a matt texture that strikes a harmonious balance between surface strength and sensual materiality. Created in combination with a series of specially-designed décors, Kér has been awarded the "High Product Quality" Interzum Award 2019.
ArpaLab continues to explore new aesthetic suggestions for interiors, offering the wood decor "Noce Carya" in both Dark and Light versions. A pattern that highlights the natural grain of black walnut.
FENIX: continuous innovation and integrated solutions
Bianco Dover is the latest addition to the colour range of FENIX NTM, giving clients the option to choose between four different shades of white. The palette of FENIX now consists of 27 timeless colours. These are material surfaces which are not only beautiful to look at, but they are also high-tech materials. Thanks to its innovative blend of beauty and technology, the FENIX NTA metal surface has won two important awards: the "High Product Quality" Interzum Award 2019 and the "Product Design" Red Dot Award 2019.
A new concept consolidates the role of FENIX as an "ingredient brand" aimed at offering aesthetic solutions and simplifications that round off its interior design offering. This is "FENIX Integrated Solutions. Kitchen Sinks," a range of kitchen sinks designed to be integrated with worktops made of FENIX NTM. Products made from acrylic resin with an extremely matt finish, allowing for perfect integration between the FENIX NTM worktop and the sink in kitchen designs.
Innovation, sustainability, advanced technology and durability combined with "Made in Italy" design and style have always been the values of Arpa Industriale which, once again at this edition of Interzum, are expressed through the new products being presented.
Arpa | FENIX
Cologne 21-24 May
Hall 6.1 Stand C018-D019
transformaterials shaping sustainable ideas