Five stylish and functional ideas to design your office with FENIX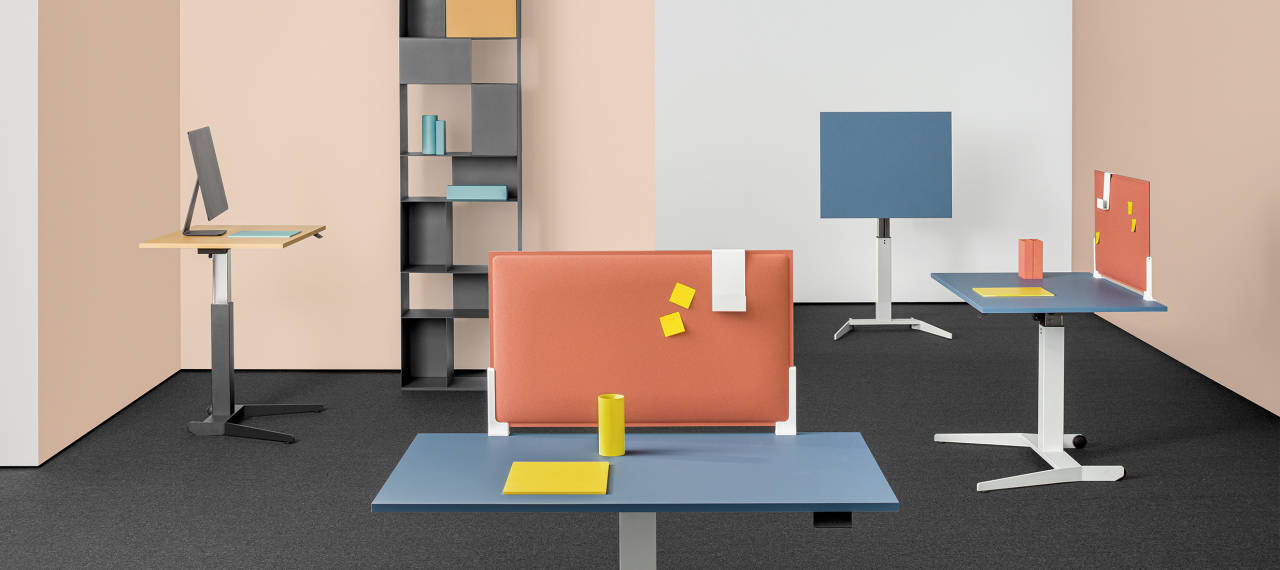 Five stylish and functional ideas to design your office with FENIX
When it comes to designing an ambience in which people generally coexist for several hours every day, trying to be creative and proactive, it's important to set up a pleasing and inspiring atmosphere. Among its interior application possibilities, FENIX innovative materials greatly suit with office projects. Thanks to the visual and haptic comfort of its surfaces, FENIX give your office that positive feeling which is essential to stimulate individual and teamwork. The colour range allows multiple combinations with other materials as well as with green life, completing the creation of a stylish and healthy work environment. Also, the distinctive feature of being anti-fingerprint significantly increases the workspace's functionality. 
We've collected five examples of offices made aesthetically refined and functional by the use of FENIX.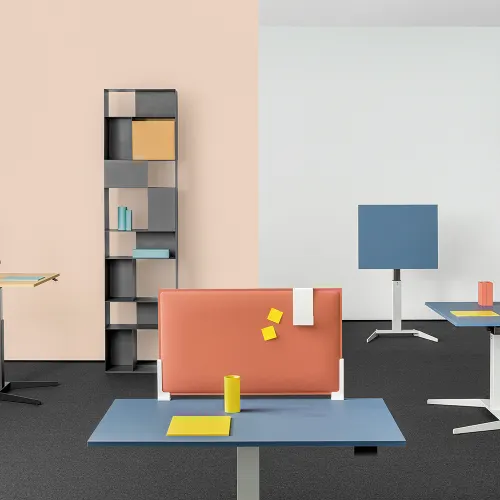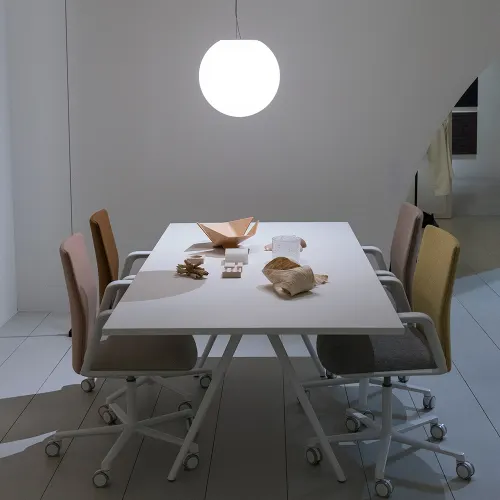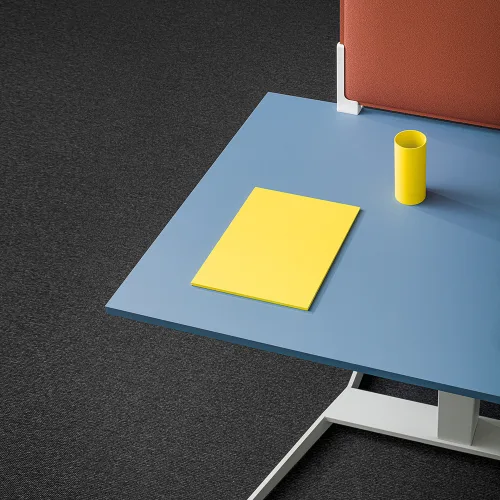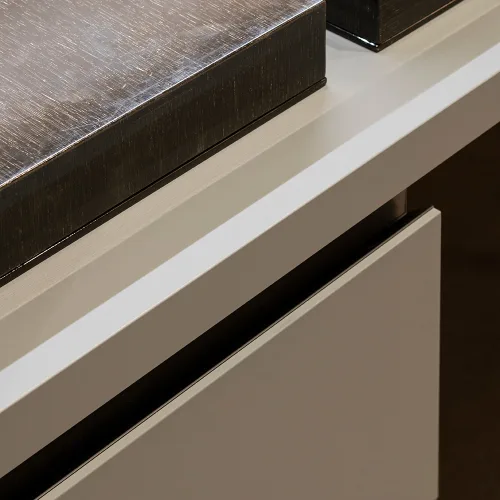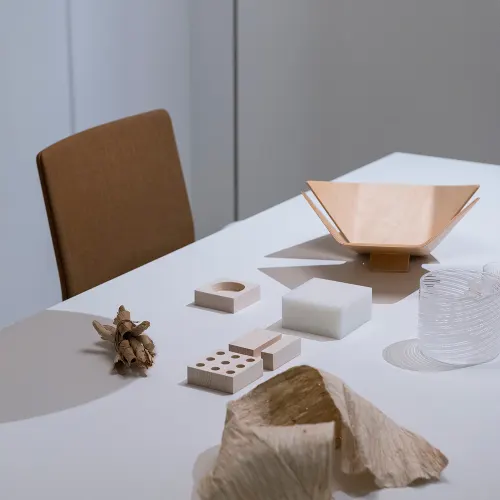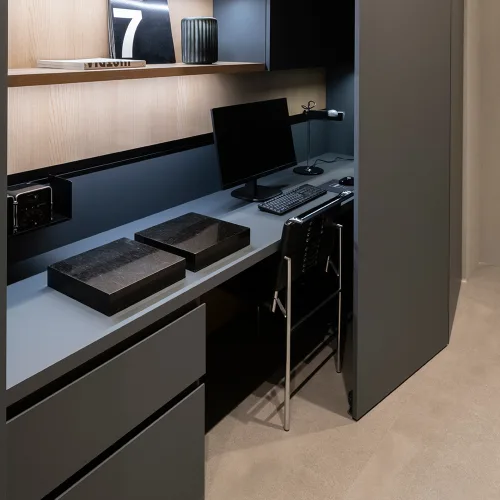 Interpreting contemporary needs while reaching for a creative and functional interior design, Mara proposes colourful systems for office and home office. The use of a variegated chromatic palette contributes to enhance the emotionality of the space. In this lively context, the wide desks made with FENIX NTM Bloom combine colour intensity with the sustainable mission of the lignin-based technology. Bloom reduces the phenol in the core's resin by 50% thanks to the use of natural raw materials.
A cosy studio where warm light and white design outline the naturalness of wood objects and chairs' dusty colours. "For this project we thought that FENIX was the best choice thanks to its soft touch, high resistance to scratches and abrasions, and anti-fingerprint properties. In addition, it is an extremely durable material, and for us, a company with a strong focus on sustainability, this is a key feature," says Nicolò Fanzago, Arper Head of Product & Design. The FENIX Bianco Kos of the desk designed by Arper matches with white walls and flooring, perfectly harmonizing the whole atmosphere. 
Workstation by STOSA CUCINE
Elegance and refinement are the key features of the workstation design by STOSA CUCINE. The innovative material's extreme opacity–in FENIX Grigio Bromo–embraces the environment with beautiful intensity. The surface design here gives a sense of comfort and confidence which definitely favours concentration while studying or working. 
Elle Decor At Work by DWA Design Studio
The installation in the Milanese Palazzo Bovara, created for Elle Decor At Work in 2019, shows how a co-working area can turn into a fluid contemporary sanctuary. Improving the micro-climate and the emotional wellbeing, the workstations are surrounded by a lush flora, which was curated by the landscape architect Marco Bay. "We use FENIX for its innovation and high functional performance. The wide range of colours allows the designer's creativity to be best expressed, exploiting the material both horizontally and vertically. For Elle Decor Italia, we created a fluid environment with large and long sinuous surfaces," says DWA.
FENIX Scenario by Gio Tirotto
"Through a theatrical system, we designed a place where you can always watch different scenarios. An architecture where the visitor becomes an 'inhabitant', creating, knowing, dialoguing and learning." With these words, the designer Gio Tirotto describes the space of FENIX Scenario which works as both showroom and office. Here you can find the innovative material through multiple applications: from desks to wardrobes and sound-proofing panels. In particular, within the underground floor, the use of FENIX–combined with a special lightening system which incredibly resembles a natural light source–creates a very pleasant work atmosphere where plants thrive. 
FENIX Formica laminate and Homapal at EuroShop 2023 with Surfaces with a view