ROSSO JAIPUR KITCHEN by  Nicolò Rosmarini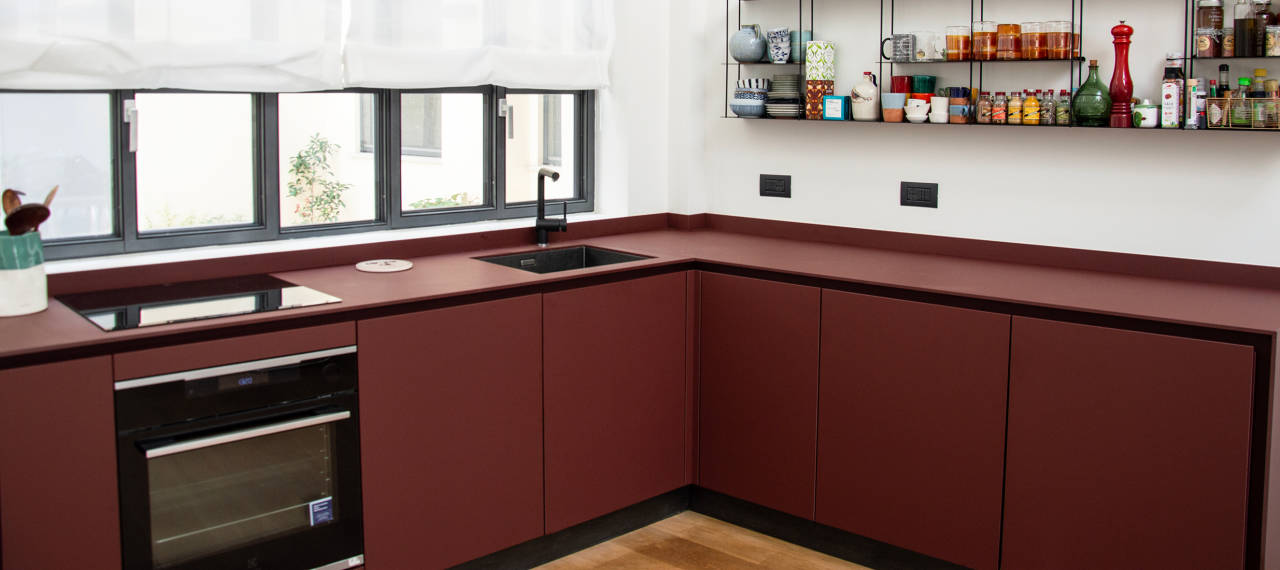 ROSSO JAIPUR KITCHEN by  Nicolò Rosmarini
Among the areas of the new Milan, green, cosmopolitan and with a vibrant atmosphere, Chinatown district certainly stands out. In this lively and trendy neighbourhood, that has undergone major requalification over the last few years, the loft full of light and charm of a young Milanese woman was built vertically. The apartment – ​​comprising living room with kitchen on the ground floor, mezzanine sleeping area and a romantic terrace on the third level – was designed by her friend and architect Nicolò Rosmarini.
On the ground floor, although extremely discreet and essential, the kitchen in FENIX NTM® Rosso Jaipur is the protagonist. The entire apartment, explains the architect, has been tailor-made to make the best of the spaces and be able to manage the angles, which are greater than ninety degrees. The kitchen, in fact, located under the large window at the entrance, was custom designed by the corner and without wall units. To carry out this ad hoc project, Rosmarini stuck to the client's needs.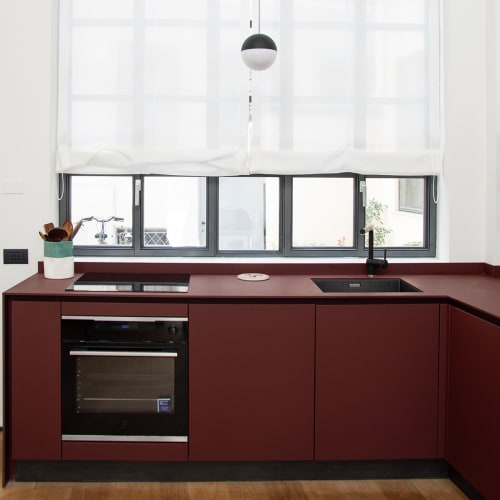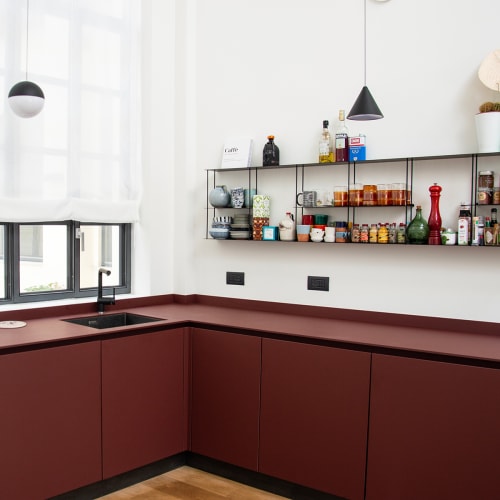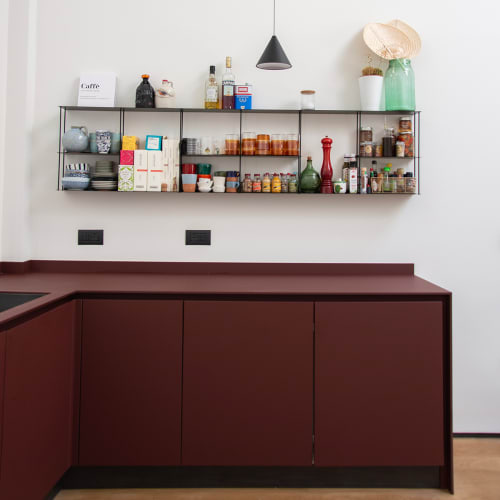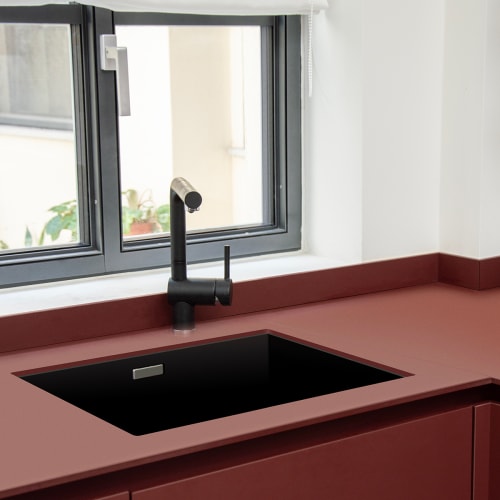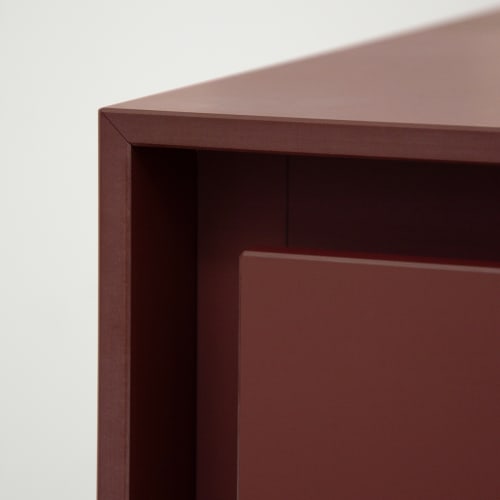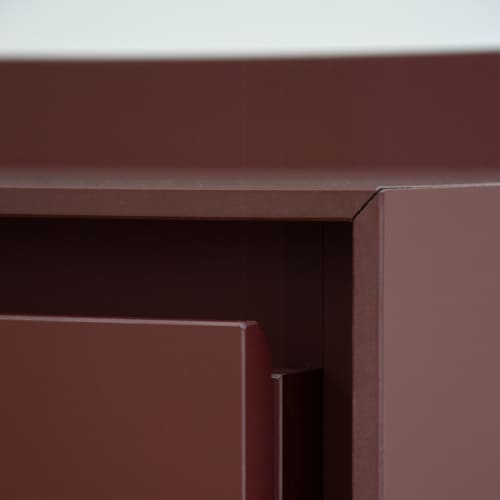 "She is certainly not a master chef (laughs), so the goal was to focus on aesthetics and create a modular kitchen without excess elements. The monochromatic units under the hob, all of the same size, contain kitchen essentials: oven, washing machine, fridge, freezer, pan holder. A light and ultra minimal design."
"The tone choice further highlights the client's tastes, since burgundy is her favourite colour," adds Rosmarini. "FENIX in compact format was used for the top, while the doors show the material in 0.9 thickness: all in Rosso Jaipur. This sense of chromatic and monolithic continuity is interrupted by the flared frame between the top and the doors". The design simplicity thus acquires a creative edge that enriches the peculiarity of the project.
Furthermore, the extremely matt, burgundy-toned surface goes well with the other protagonist material of the loft: the steel of the stairs, painted with anthracite grey, which frame the space leading to the mezzanine and the terrace. But the effectiveness of this kitchen is not only evident in terms of visual pleasure. Other than being soft-touch and anti-fingerprint, the surface reveals a strong and durable design. The owner intervenes, "the look of the kitchen is just the same as it was two years ago when I entered this house".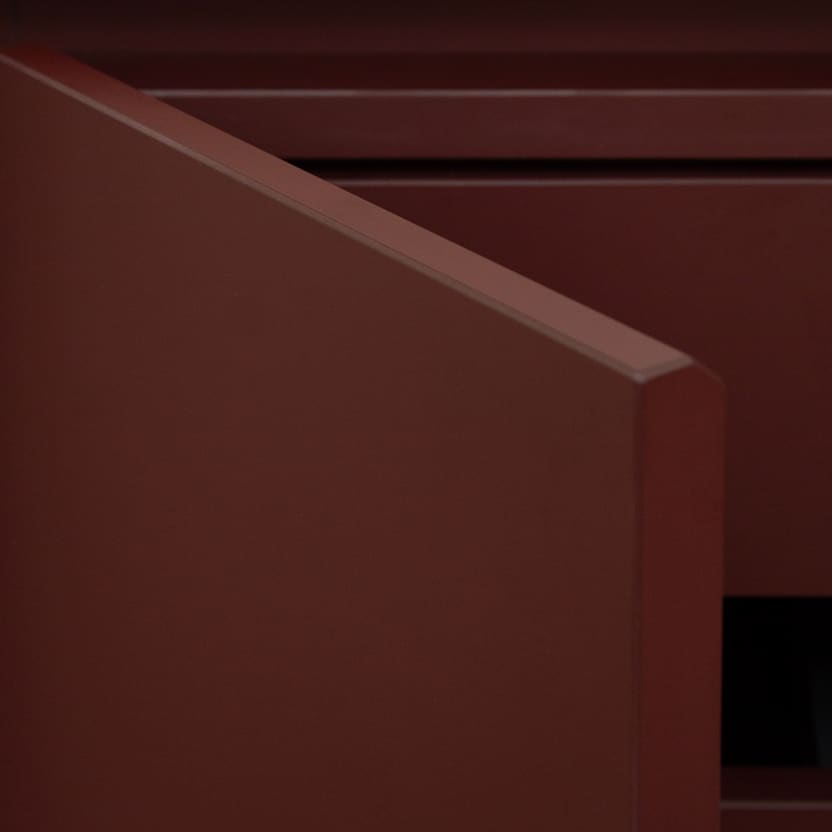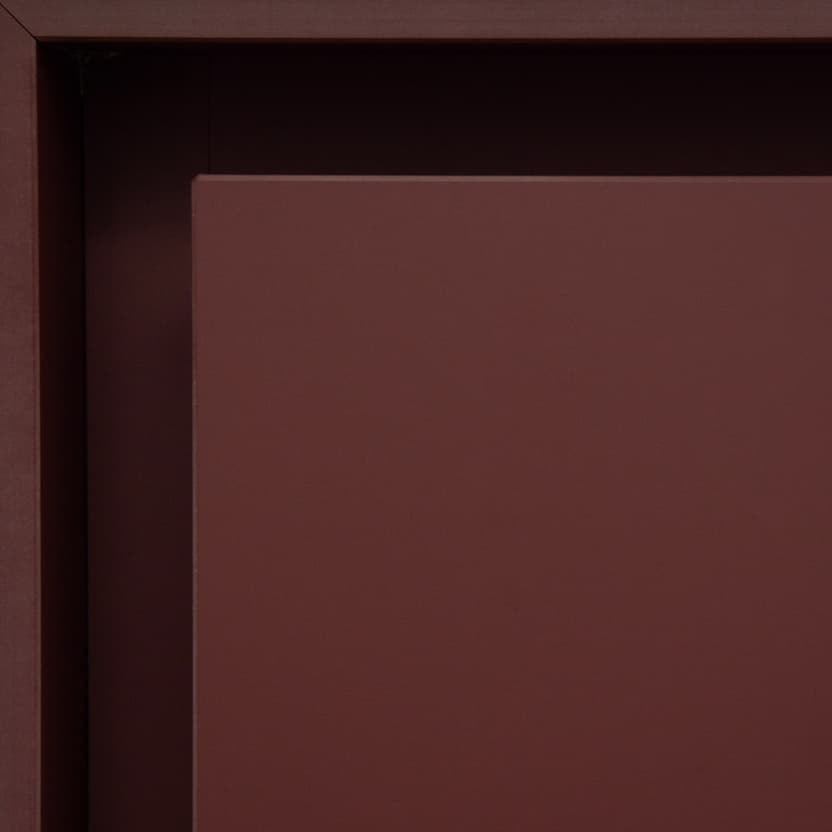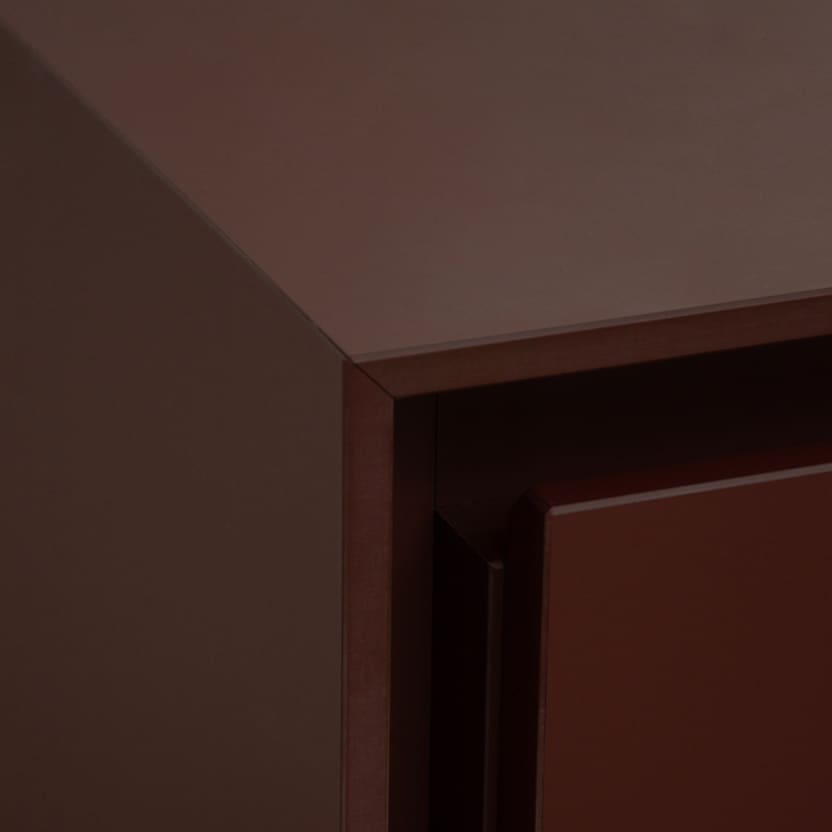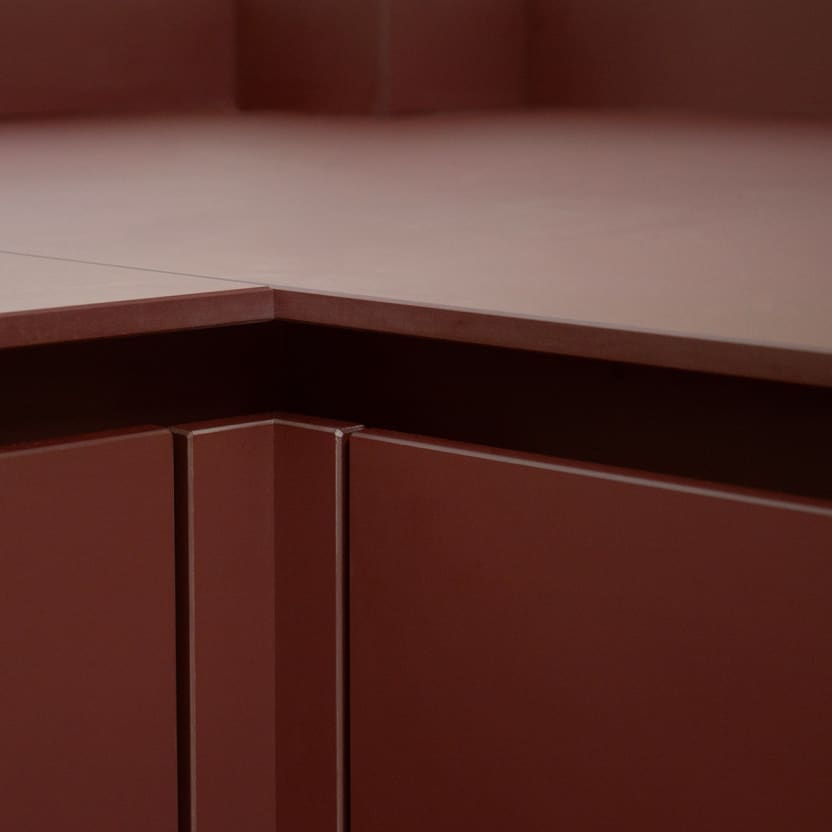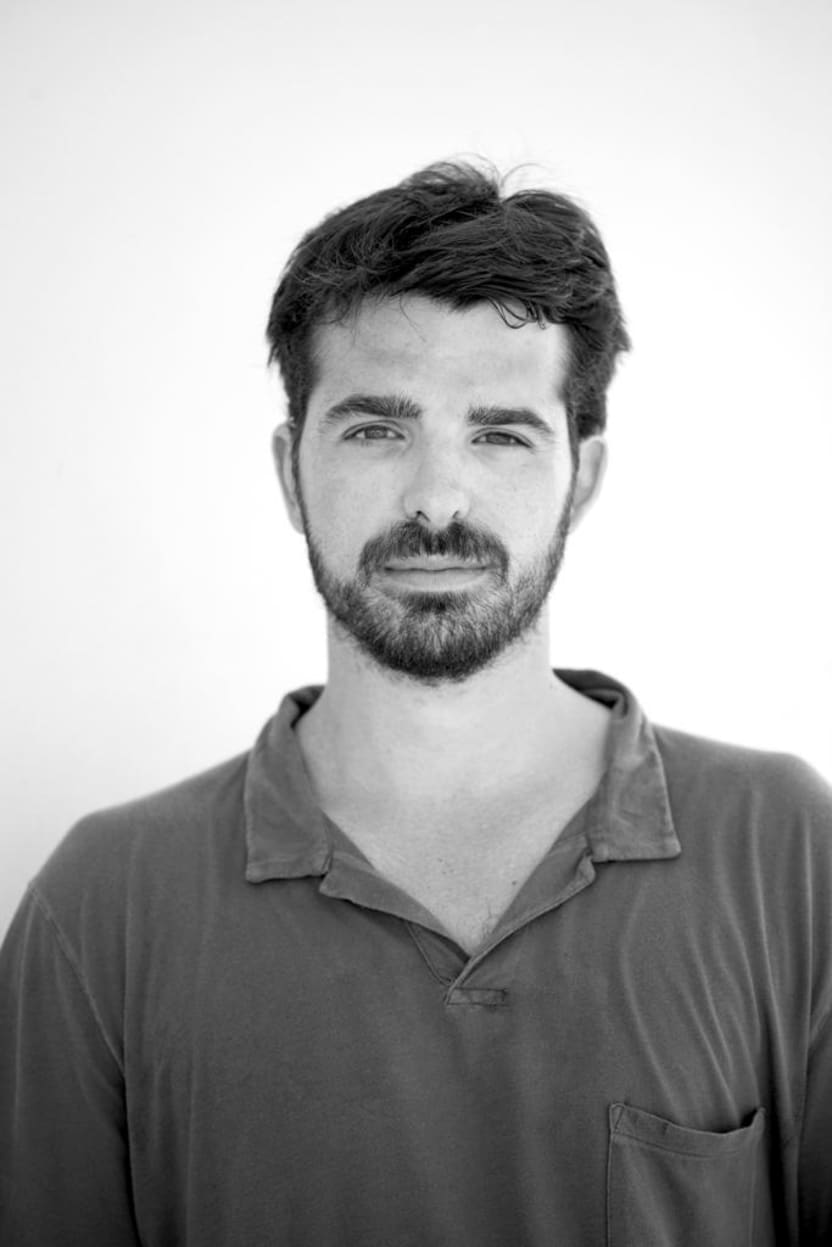 NICOLÒ ROSMARINI 
Nicolò Rosmarini is a young Milanese architect. Born in 1990, he decides to be an architect as his wish is to work with beauty and to materialise off-the-grid visions. Graduated in 2014 from the Politecnico of Milan, Rosmarini acquires academic experiences in Spain and Argentina and in 2016 he joins the Order of Architects of Milan. Since 2015 the architect has been collaborating with internationally renowned studios. He deals with both architectural and design projects, enhancing an aesthetic and functional philosophy. With the aim of transforming his city into an ever-greener place, Rosmarini wants to create unique and original systems through the balance of simple lines.
OFFICE TABLES (AND MORE) by Mara