OFFICE TABLES (AND MORE) by Mara
OFFICE TABLES (AND MORE) by Mara
At the Salone del Mobile.Milano 2023, Mara's stand - Italian company specialised in the production of office, home and contract furnishings - will only be presenting FENIX tabletops. Laura Marchina, Mara Managing Director, talks about the latest models of office tables from the collection made with FENIX's ultra matt surfaces, kicking off with the 'Setting Colours' installation at Orgatec 2022.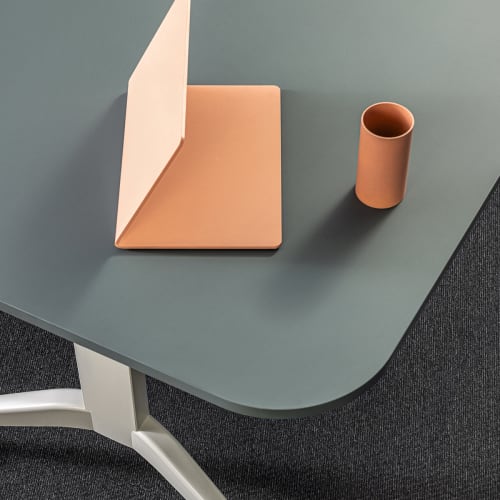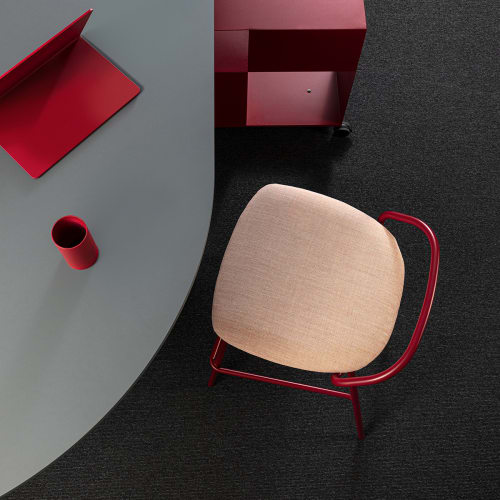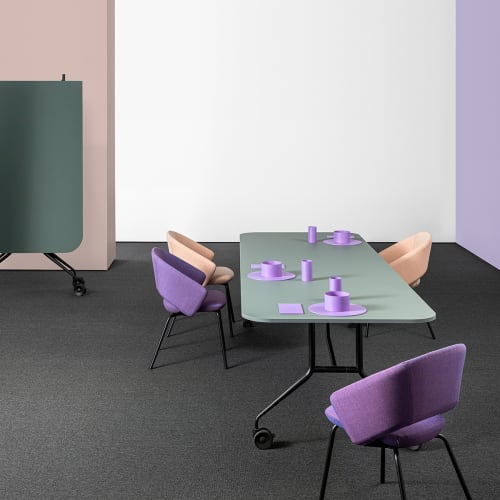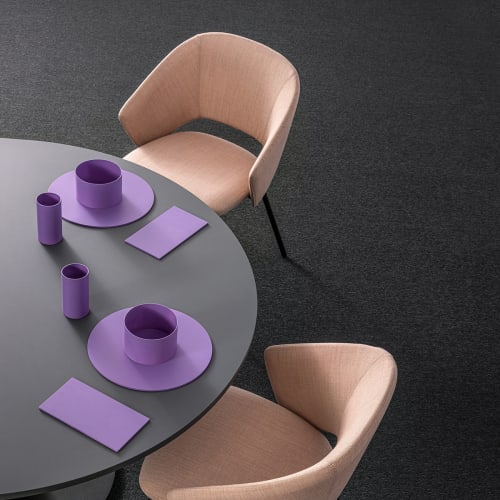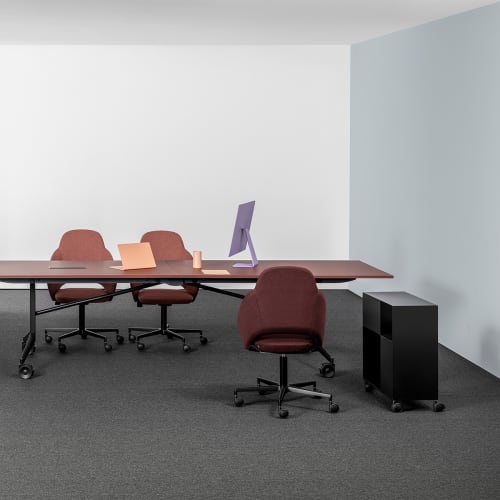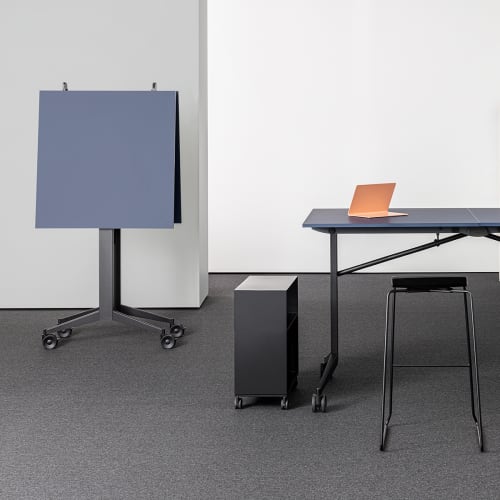 Credits: ©mara / photos by Nava Rapacchietta
Has the concept of office design - so central to the identity of a historic company as Mara -changed today, compared the past?
With Setting Colours, our goal was to move beyond the worn-out ideas of traditional office, and this was not merely an aesthetic expedient to increase the environment's emotional power or to define its spatial configuration, but actually became a symbol of the company's new image and its most recent evolution. In short, it is a company that strives to interpret the needs of the contemporary world in interior design and translate these into a cutting-edge, extremely functional design; a company that is open to new forms, new approaches to design, in an ongoing and future-oriented process of development.
 
During the 'Setting Colours' exhibition, Mara presented a range of models of tables made of FENIX. What would you say they add to your collection?
Setting Colours was the perfect context for us to present our main collections of multifunctional tables characterised by innovative, carefully-researched systems patented by Mara. The exhibition saw us presenting sit-stand tables and desks, with a patented mechanical height adjustment system - all folding, space-saving models on castors also available in new 1050mm-high versions. Smart, flexible products made for multitasking where you can easily work, study, chat or enjoy lunch. Ideal furnishing solutions for the latest co-working space, office and meeting room formats which offer wellbeing and comfort in whatever space they are in, allowing for multiple combinations thanks to a vast range of sizes and colours.
 
What prompted you to opt for the innovative materials and colours offered by FENIX?
We have been working with FENIX for several years now. We landed on a product that was attractive to look at, but also pleasant to the touch, with all the unique qualities that come with it: from its anti-fingerprint properties to its extremely matt appearance, along with its soft touch. The choice of colours immediately proved to be incredibly harmonious pairing for the various frames used for Mara's products, offered in the Setting Colours installation in hues ranging from grey to a sandy beige, all the way to more intense reds. Specifically, all Mara models are available in FENIX NTM® 0754 Blu Fes, 0724 Grigio Bromo, 0750 Verde Comodoro and 0751 Rosso Jaipur.
 
How important is it to strike that delicate balance between functionality and aesthetics when designing tables for workspaces?
I'd say that it's paramount. The last few years have not only overhauled many of our preconceptions about how we work, but also taught us something crucial: the importance of making our spaces increasingly functional, pleasurable to look at and to live in.
I believe that these two ingredients - functionality and beauty - when coupled with a formal simplicity capable of suiting all types of spaces, are key identifying features of all Mara product. They represent the very essence of our concept of Made in Italy: the timeless union of innovation and design. With our products, spaces can be reconfigured at the drop of a hat - for example, a meeting room can be transformed into a training or conference room, with impressive savings in terms of time, space and resources.
 
Offices and home office: are Mara's new tables suitable for both environments?
Mara has always specialised in office and contract solutions. Now, it is offering its expertise to the design of contemporary interiors dedicated to our work lives and our social lives, even in the home environment, which is increasingly seeing these activities converge within its walls. Indeed, Mara's minimalistic and highly colourful design dialogues with the most diverse furnishing styles, as well as with spaces from lounges to dining rooms, bedrooms to studies. Solutions which, whilst seemingly essential in form, conceal a great deal of sophisticated design in order to ensure maximum comfort and ergonomics, simplicity of use and effectiveness. With Setting Colours, this brand-new interpretation of the classic Mara collections is perfectly in line with the reinterpretation of the 'new normal' of our living spaces, allowing us to play around and interact with design in everyday life.
 
What's new for the Salone del Mobile?
The new concept, 'Mara Design Show', characterises our presence at the spectacular event of Salone, where we are returning to with an immersive and totally unprecedented show. We will be displaying icons and bestsellers, including the 'Follow' collection of sit-stand tables, with Mara's patented mechanical height adjustment system, now improved by the 'Follow Meeting Cone'. This softens the central column-based design of the Meeting version with a conical base, also designed with residential spaces in mind. The geometrical contrast between the tabletop and its supporting structure creates a sculptural element for interiors with impressively varied formal expressions.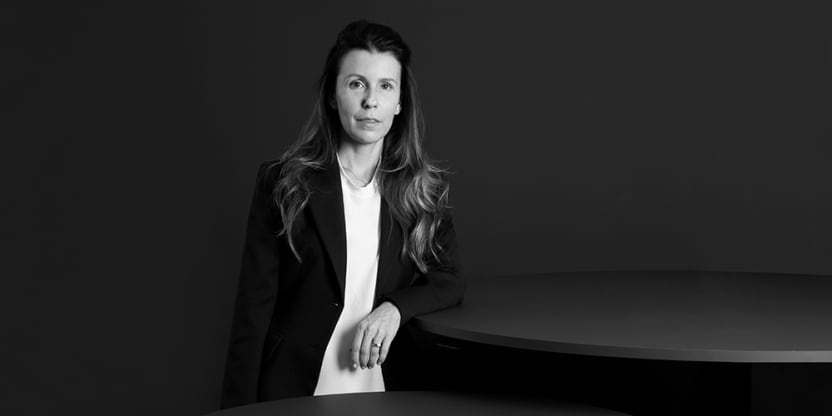 MARA
Mara is an Italian company which specialises in the production of innovative, functional design systems and elements. Founded in 1960 in Brescia, Mara has crafted an extensive and ever-growing collection of office, contract and home furnishings. Durable, high-quality furniture solutions produced with the most innovative manufacturing technologies, the result of the company's tireless research and consolidated expertise. A great deal of attention is paid to safety and durability requirements, as well as achieving international certifications which allow the company to put its products forward for contracts to supply public spaces. Collections of tables, chairs and complementary elements, distributed all over the world, help to furnish stimulating environments to live and work in, improving people's wellbeing and comfort wherever they are.