MULTIFUNCTIONAL MINIMAL SPACE by EDB Studio
MULTIFUNCTIONAL MINIMAL SPACE by EDB Studio
The careful restoration job preserved the spirit of Le Marais, along with the original materials: limestone and wooden beams. In this setting, the minimal furnishings made of FENIX NTM® - Bianco Malé and Grigio Londra - blend in to resolve the relationship between new and old without overwhelming the aesthetic, offering the different functional configurations required in a surprising way: bottom-hinged shelving, wardrobes with a push-pull sliding door folding beds and tables. It was the choice of FENIX that allowed the architects to opt for almost entirely invisible solutions, thanks to its anti-fingerprint properties, they could eliminate the handles and they were able to choose Bianco Malé as the dominant colour.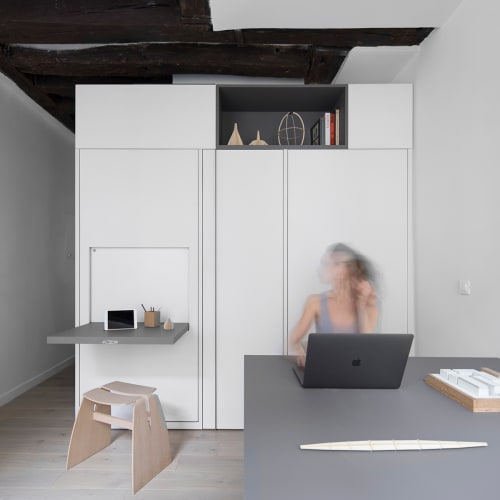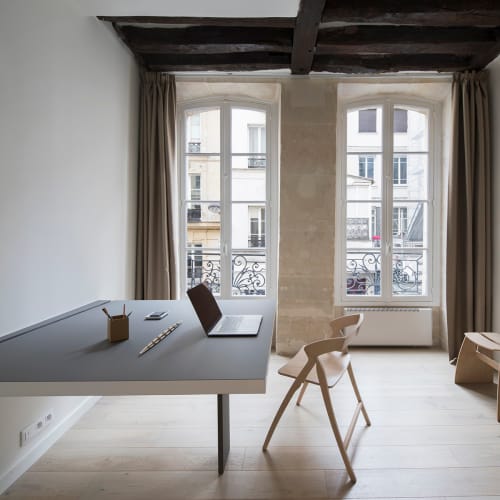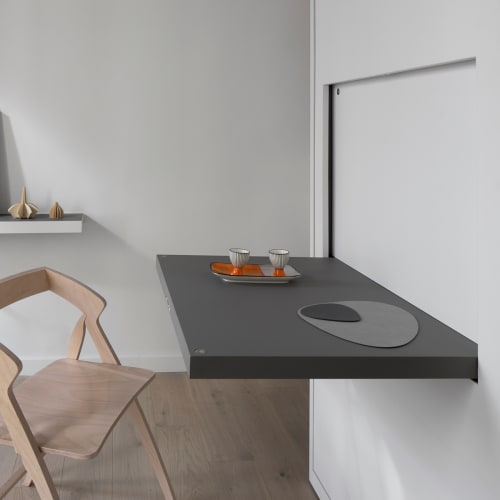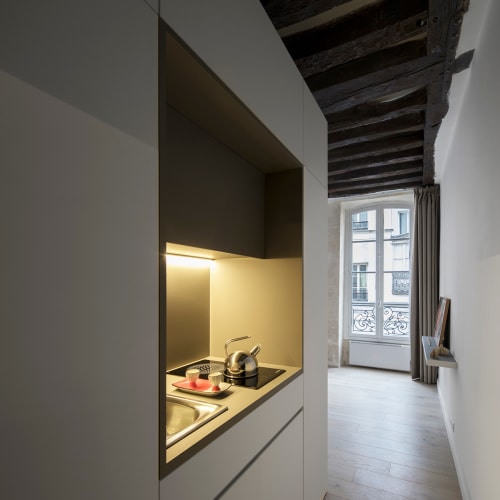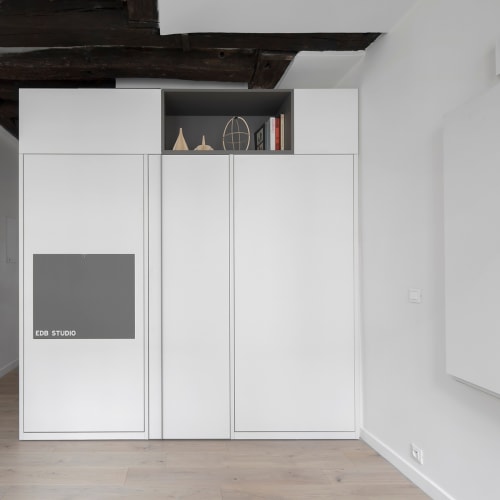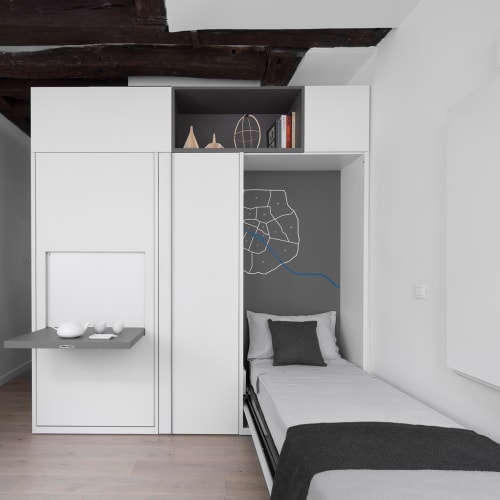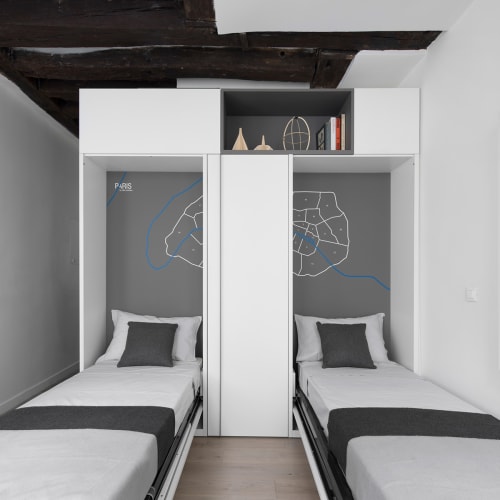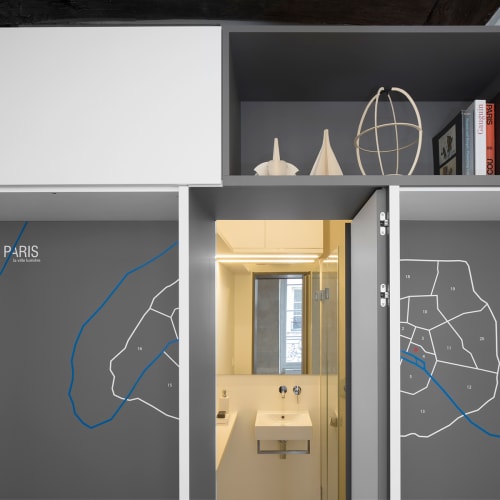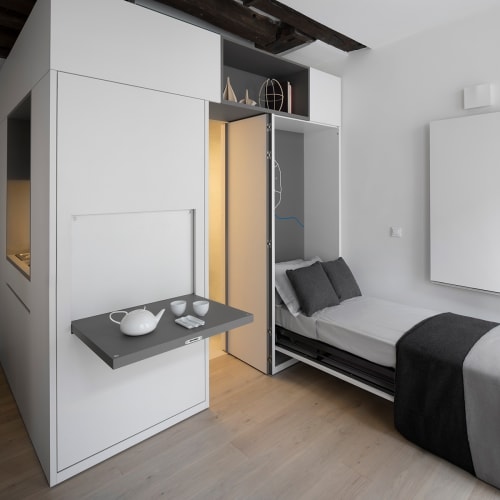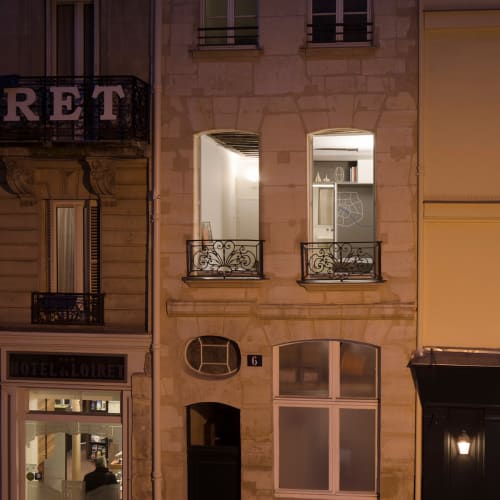 A change in colour on the white vertical surface suggests the presence of a fold-down table; another disappearing bed is separated by another module, which reveals the real function of the central module: the door to a hidden bathroom. Coordinated with this interplay between modules, another curious square surface - surrounded by a grey rectangle - transforms into a large working table. The kitchenette is nestled in a small niche with a sink, electric hob, and cabinet, also equipped with drawers, a fridge and a larder. 
Endless different scenarios become possible, as the space is a Chinese box capable of taking on various configurations which adapt to all the needs and activities it is used for over the course of a day. 
From the carefully-considered lighting to the attention to detail in the furnishings, from the interplay between new and old to the reflection of the city, nothing is left to chance: a minimalist project that is nonetheless extremely multifaceted, so as to demonstrate how even the smallest living space can turn into an important multiuse response to the reality of urban life and the human needs for modern living, maintaining a dialogue with the heart of the city.
FENIX for MULTIFUNCTIONAL MINIMAL SPACE 
FENIX NTM® in the colours Bianco Malé and Grigio Londra for the furnishings. Grigio Londra for the working table and worksurface, with visible backsplash in Bianco Malé. Bianco Malé is also used for the other surfaces in the living area and bathroom.
EDB Studio Milano
The group of architects, designers and colleagues at EDB STUDIO specialises in resolving even the most complex projects in architecture and industrial design, with a particular interest in public spaces, libraries, hospitals, residences, repurposing buildings and lightweight structures.